Opt in and book Europcar for your chance to win $1,000!
How to enter:
Complete the 3 question opt in form here
Make a Europcar booking through your GDS or Click4Wheels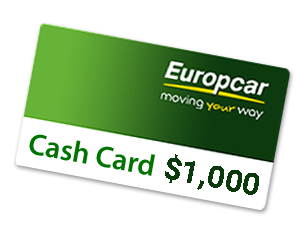 Terms and Conditions Apply please click here for further details.
One entry per agent will qualify through the opt-in form.
Bookings must be made between 01 April – June 30, 2019 and actualized by July 31, 2019.
Only bookings made through a GDS or Click4Wheels will be eligible for this promotion.